Get the Facts from Your Dollard-Des-Ormeaux Real Estate Agent
Dollard-Des-Ormeaux, also known as DDO, is a large, mostly Anglophone, on-island suburb of Montreal. It is nestled between Kirkland, Ville Saint-Laurent, Pierrefonds-Roxboro, and Pointe-Claire. Peaceful, family-oriented, with plenty of green spaces, it boasts a very high livability score. Something a real estate agent for the Dollard-Des-Ormeaux community knows all about. So, why live in Dollard-Des-Ormeaux? Well, according to a recent poll, it's the happiest city in Quebec and there are plenty of reasons for that. Let's take a look at some of them.
Plenty of Green Spaces
One of the main reasons people enjoy DDO is the abundance of green spaces. Definitely a selling point for real estate agents, the many parks and playgrounds in Dollard-Des-Ormeaux do not disappoint! Among them are two large, popular parks: Bois-de-Liesse Nature Park and Centennial Park. Both offer plenty of space for all types of activities throughout the year. Hiking, cycling, cross-country skiing, and more.
Centennial Park is an impressive 48 hectares in the heart of the city and has a large artificial lake, as well as a dog park. A natural oasis in the middle of the city where families can have picnics and enjoy walking, jogging and many sports activities during any season.
Facilities and Community Involvement
Another positive aspect of living in Dollard-Des-Ormeaux is that it offers many facilities for community involvement. Places where residents can participate in cultural events, feel part of something, and strengthen their relationships with their neighbours. The Aquatic Centre, the municipal library, the Dollard Centre for the Arts, and the Marché de l'Ouest are some examples.
More than just a community pool, the Aquatic Centre is home to a fitness room and a gymnasium. A place for recreational and educational activities where residents of the community can come together for fitness and fun.
The municipal library hosts workshops, crafting events, parties, concerts, readings, and book clubs.
Located in the Civic Centre, the Dollard Centre for the Arts provides courses in all artistic disciplines and offers Fine Arts Summer Camp for children. It also organizes the city's annual Fine Arts & Crafts Holiday Market.
Lastly, the beautiful Marché de l'Ouest, with its lovely indoor and outdoor shops, food court, and a huge variety of products, from fresh fish and meat to different types of cheese, bread, and pastries, is the perfect place to walk around, meet people and shop.
Safe and Family-Oriented
It's easy to see why DDO ranks so high on the livability scale. It's a safe, family-oriented community with many aspects that contribute to a high quality of life. An area with plenty of green spaces for activities or peaceful introspection and quiet living, while still providing access to vibrant shops, restaurants and cultural events.
Discover Dollard-Des-Ormeaux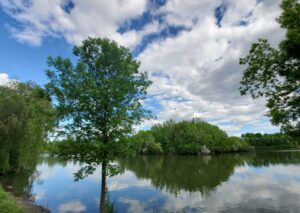 If you're thinking of buying, ask your real estate agent about Dollard-Des-Ormeaux. Green spaces, great facilities, community, family, and safety make DDO very appealing. From single-family homes to high-end real estate, there's a home that fits your budget.